It's time for my 2nd Linkup Feature...
Rebecca over at
Simple As That
hosts the linkup called "The Simple Things Challenge on her blog. She has included the details of her linkup below:
It's all about capturing photos of the simple, everyday things that bring us joy. Come link up every Sunday. The linky ends Wednesday evening.
Click on her button to check out her linkup and join in on the fun!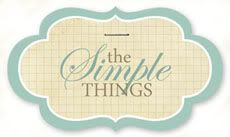 The Simple Things
will now be included on my list of linkups under the tab 'Other Linkups' found at the top of my page. Rebecca, please be sure to include my button below on your blog so others can find their way to this helpful list of linkups.
If you would like your linkup featured on my blog, please click on the tab at the top of the page entitled 'Get Your Link Up Featured' for details. The next linkup will be featured next Monday.